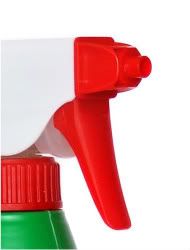 Coley mentioned in the newsletter this month that adoption is everywhere. Lately, I've felt like every TV show I turn on or movie I rent has some sort of storyline about adoption or unplanned pregnancy. I go to dinner and the people behind me are talking about adoption. The radio station I work for did an entire two hour program on unplanned pregnancy and I had no choice but to listen. I'm constantly getting baby-related mail. Some days, I really
really
want a break from these emotional "triggers."
On good days, these emotional triggers are frustrating, and can leave me in a funk. On bad days, they can bring on some pretty strong emotional reactions.
So, how do you handle these triggers? Here are some things I do:
If I'm feeling a strong reaction coming on, I will try to excuse myself for a few minutes. Bathrooms are great for this. So are cars. Sometimes just stepping away from people gives me enough of a chance to calm down.
Internally praying, reciting a comforting Scripture or quote, or singing an encouraging song. Any of these can help to calm my thoughts and focus me.
Finding a task to distract myself. This is especially helpful if I'm faced with a trigger at work. Anything that takes significant concentration will do.
Turning off the TV show/radio, stepping away from the conversation, etc. Sometimes it's hard... especially with adoption themes in shows. But, I'd rather miss the rest of the episode than let it drag me down.
Send a text to another birthmom. Sometimes just venting to someone who understands makes a huge difference.
Sometimes, thinking about or looking at a picture of my son helps... other times, I know it would just make things worse. I always keep a few pictures in my purse for times I think it will help.
Unfortunately, these options aren't
always
available. Sometimes, I just have to deal with it. If I
do
start crying and I'm with people who don't understand, I just explain that I'm having a hard day. Most people are kind enough not to pry. I also try to remind myself that it's a normal part of the grief process and, next time, I'll be a little stronger for it. Each time I face these types of things, I get a little better at managing them and at figuring out what I need to recover.
What do you do when faced with unexpected triggers?